Interview with a pharmacist – Pharm. Coralia Kreyer
#A great achievement is usually born of a great sacrifice.
#The root cause of unhappiness is never the situation, but our thoughts about it.
#Silence and peace of mind and balance in everything. We have learned that peace does not mean the absence of conflicts.
#The pharmaceutical foundation provides a solid foundation for life: a high workload resistance, an analytical approach to challenges, a empathy for people and people's lives, and a profound understanding of chemistry that is the foundation of life from a scientific point of view.
            Coralia is a talented pharmacist, a pharmacist with the spirit of Creanga and Caragiale that is manifested through poetry. Her talent is manifested as she writes epigrams, this helps her to get a little bit of stress away of everyday madness, to put flavor and humor in every experience and to make fun of bad times. Humor is an art and she fully masters it. Soon, we hope to read more of these epigrams in the next book that she promises to write. We, the Pharmapro.ro team, wishes her great success in this project and we promise to support this artistic approach.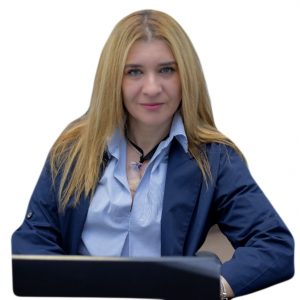 Coralia is currently involved with the less well-known part of the pharma industry. After a professional career including a pharmacist experience in Germany and multiple experiences in the corporate area, she is currently the executive director of the European Medicines Distributors Association. Coralia, through her role, represents the interests of a segment of the wholesale distribution sector, ie wholesale distribution and authorization holders operating outside the classical distribution chain. She is an example of a unique professional destiny.
---

How did you start your career? How did you view your pharmacist career?
As one of my favourite speaker and writer said, "The past gives you an identity and the future holds the promise of fulfilment in whatever form. Both are illusions." (Eckhard Tolle). I have recently found myself staring at a hiring advert, on a supermarket entrance door, showing a well-organised panel of apples with only one outside the row and a challenging statement: if you feel the need to place the apple back on the row, you are the best candidate for us. Instinctively, I was updating my CV on my mind and saw myself getting the managerial role of the whole supermarket's team. But the door just opened as reality checks us permanently and I've realized that I'm already a pharmacist. I thanked God though that I'm not an engineer since I would have probably followed the same pattern as the most Romanian engineers do, when introducing themselves to someone: "Engineer Name Surname", basically an incorporation of the profession, sometimes other qualifications too, in their identities.
Anyway, with this advert, I had a flashback about my first driver when choosing Pharmacy to study, 27 years ago: an almost obsessive-compulsive need for tidiness, order and regulation. The second driver but not the last, was my pharmacist grandma. The third, was chemistry. Chemistry still driving me, in everything. I've started to work as a community pharmacist in Buzau.
Who inspired you? Who did you choose to be your models?
I have learned to know many individuals alongside my professional path, with different spirits, tempers, skills, some with perceived by me flaws, from different cultures, at different times of my and their lives, interacting with them at different levels, on different aspects. I have learned from them all and let myself inspired by all of them; each has played a role in my life and helped me made my choices. It is questionable if we really need them however we are all having one another and we are all shaping each other's lives.
How do you perceive the profession of pharmacist today? How did you perceive when you started practicing?
The professions' paradigm generally changes, including the pharmacist profession. Since my graduation in 1995, it has changed a lot and it continues to change. The pharmacist role has expanded in many ways and directions and covers vast areas: from R&D to community/hospital pharmacies, from regulatory to establishing health policies, from commercial to creating new business models. It extended even in areas of communication, PR and international medicines strategies. The technical skills gained during the study have developed and are complemented by entrepreneurship and managerial skills. It definitely offers more options to all those already enrolled in the pharmaceutical field but mostly, to those interested to choose this profession.
What are your most important values and how did they influence your professional decisions?
Values can act as fostering or hindering success factors along careers. The exclusive desire of career fulfilment may have the potential risk of "impairing" some personal values. I have remained loyal to feeding my intellectual curiosity when changing career paths, to helping people, to creating new and honest bonds, to letting my creativity playing a role even in the most hostile environments, to giving my best possible in all situations, to learning at hardest when faced with new challenges and to accepting partial blame when not succeeding.
What are the strengths of a pharmacist in your opinion?
We tend to believe what we are told, sometimes to accept as valid, slogans issued for various purposes e.g. "the new white is black". The primary cause of unhappiness is never the situation but our thoughts about it. There are no "double-sense" messages about pharmacists and medical doctors, is just a false perception on both sides, perpetuated for some debatable reasons, which are more connected to the whole structure of our society but not the truth. Both professions are people lives oriented therefore they will always remain interlinked. Despite the differences, they do serve the same purpose: the patient and his good. Fake prescriptions, in my opinion though, is an example which would just place some individuals on the dark side of these professions but this would only be an exception, which confirms the rule of "binary" in everything.
Beyond the training and professional expertise, would you be pointing to something that helped you that would be it?
Studying pharmacy taught me that great achievement is usually born of great sacrifice: not in the sense of abandonment or cope-out but perseverance and discipline, basically opting-out those short-time rewarding "prices".
What is the best life lesson you have received?
A turning point in my life, happened first 8 years ago, was a life coaching. The life's lesson that I'm still learning is the silence and the peace of the mind and the balance in all. I've also learned that peace does not mean the absence of conflicts.
If you were going back in time, would you choose this profession?
For the purpose of testing some other personal skills, more rewarding for the society as a whole, I would try something different. Nevertheless, a pharmaceutical background offers a general solid ground for life: a resilience towards workloads, an analytical approach of challenges, an empathy for people and people's lives and a deep understanding of chemistry, which is the life's fundament, in scientific terms.
What are the weaknesses of this profession?
There are no real weaknesses of this profession unless some strengths exacerbated. Anyway, individuals and professions are shaping each other. Potential weaknesses: – over-analysing, missing the general picture in favor of details – lack of perspective, less effective business mindset in favor of technical skills, lack of practice or less details about the health policy environment during the pharmacy study.
What were the choices inspired by your career?
Corporates have introduced the term "horizontal evolution". I was confused with the term at the beginning. The old paradigm was opposing this new term in my mind as I used to think that I would be "no one" if not hierarchically promoted, obviously vertically upwards, towards my retiring. Instead, I've been almost all my life (professional) a manager, even if not managing people and I continue to be one. So are most of the pharmacists nowadays, if not most of the Romanians. All my career choices have been inspired since they've brought me to the present moment, culminating with this interview.
What would you do differently in your career?
Nothing. Everything is as it had to be.
What is the least pleasant professional experience?
Too proud to tell you I was wrong, too strong to tell you I was sorry.
What are the roles you play over a day?
As Shakespeare said, "all the world's a stage, and all the man and women merely players, [..] and one man in his time plays many parts". Writer, copywriter, journalist, PR, speaker, event manager, just a couple of overlapping daily roles which may occasionally leave less personal time. All roles often both important and urgent. Nevertheless, none is perceived as a huge effort or waste of time, as I enjoy them.
What motivates you to go before?
Smooth seas do not make skilful sailors! Faith! The best is yet to come.
What would you like to know when you were at the beginning?
I wish I knew better the sense of: Our life is a creation of our mind! Simplicity is the key as opposed to the tendency to excessiveness. Less is more.
What advice would you give to those who are at the beginning?
Set vivid, detailed goals for the future and live in the now – the only moment of time over which you have any control. Spend more time on what is important rather than on what is urgent. Do mostly what the priest (role model) preaches and not what he does. Do not avoid to "fish in troubled waters", smooth seas do not make skilful sailors. Don't seek the "bubble reputation". Don't be "jealous in honour, sudden or quick in quarrel". Seek first to understand, then to be understood. At any moment, you have a choice, that either leads you closer to your spirit or further away from it.
Flash Questions:
What is your daily ritual?
Eat, pray, love, laugh, live.
What is the best advice you have received in your career?
Do some sport! Write and speak less, listen more!
Who is currently inspiring you?
Angels.
###
Thank you for the interest shown! If you find this useful, interesting or inspirational interview, I invite you to leave your comments below or here.
For other interviews and inspirational pills, watch our site or our Facebook page.