Interview with a pharmacist student – Valentina Mihalcea
#It depends on how everyone knows how to capitalize on their strengths and what they think is useful in life and career.
#GALMED means emotions, work, involvement, dedication
#If you really want something and dedicate yourself to that goal, it will certainly be fulfilled.
She is a V year Pharmacy student at the "Dunărea de Jos" University of Medicine and Pharmacy University – Galati and the President of the Galaţi Medical Students Society (SSMG). She is also a regional vice-president of the National Union of Students Federation Romania (UNSR), evaluating student at the Romanian Agency for Quality Assurance in Higher Education, member of the University Senate and permanent guest on the Board of Administration of "Dunarea de Jos" University –  Galati.
We know Valentina through GALMED a scientific and educational event organized annually by the Galaţi Medical Students Society, in partnership with the University of Medicine and Pharmacy "Dunarea de Jos" –  Galati.
Details about this event, Valentina's impact and involvement, and other interesting facts from the perspective of a highly involved and integrated in the pharmaceutical community of a V year student, you can read about it in the interview below.

How did you choose the University of Medicine and Pharmacy? 
It all started since I was a student at Gymnasium. The chemistry professor, whom I've a great admiration for, encouraged me to take part in the first chemistry competitions, an occasion to meet and discover my passion for science. During some of the competitions I won prizes.
I come from a modest family, and I have always prided myself on the fact that I and my colleagues, all students from a rural school, we have managed to rank amongst the leading venues in the Olympics and competitions.
Since then I have dreamed of a white career in the pharmaceutical field. And since then, I have begun to dedicate my time for my dream to come true.
 Who inspired you? Do you have models and mentors?
I can say that from every person in my life I have tried to learn and take the best. I think we always need mentors, examples of good practice, from which we have to learn, to observe that if we really want something, we can attain it.
I can say that over time I have had many such mentors, ranging from professors to leaders of student organizations, who have inspired and motivated me to make decisions.
What are your most important values and how did they influence your professional decisions?
I believe that the values I am guiding my life includes civic responsibility and meaning. I want to get involved in actions to change something, even if small, in the community we live in. I want to contribute to raising the quality of people's lives and to make them trust the health counseling that medical and pharmaceutical staff can offer.
Now you are President of SSMG, how has this position changed your perspective on the profession?
I have been working in the Association of Medical Students Society Galati since the first year of my faculty, trying to get involved shyly at the beginning in the projects and activities initiated by SSMG. After about two years I became a Secretary General, and since March 2017 President.
Over time, through SSMG, I have been able to participate in numerous exchanges of experience, to meet students from all over the country, but I also have had the opportunity to interact with many potential employers who have worked with us on projects.
I have also participated in numerous leadership, personal development, career guidance training courses that have contributed substantially to my professional career.
How much do you invest in your own education?
In my own education, I have always tried to invest as much time as possible. I did not focus exclusively on preparing for college exams, but I tried to look beyond these, to access as many opportunities as possible, to know my limits and to self-indulge myself.
Whenever I had the opportunity, I attended training, congresses and conferences to inform and to develop myself personal and professionally.
What is the result of this investment?
The results were seen over time. By investing time in education, but also in organizing numerous projects within the organization, I have learned many abilities that will be of special importance to me in the job I have chosen. The communication techniques acquired can be successfully applied in communicating with the patient, and the development of the team spirit is considered to contribute to a more productive relationship between the pharmacist and the patient.
How do you choose courses to help you work professionally and personally?
I think that any training or workshop is useful, and if you channel your time to professional development, it's a good idea to choose these courses in your area of interest, to think if and to what extent they contribute to improving your abilities and can help you in the future.
Most of the trainings I attended were those organized by the federations of which SSMG is a member, namely the National Union of Students in Romania and the Federation of Medical Students Associations in Romania. I'm glad I was able to access such opportunities.
What are the strengths of a student in Romania today?
I believe that the main advantage of today's student is the much easier access to information, the possibility of documenting from multiple sources, but also the fact that they can know and defend their rights, with the support of many NGOs and student federations.
I believe that the skills that students need are acquired both from the training received during the faculty, but also from internships, interuniversity exchanges, trainings, volunteer projects. It depends on how everyone knows how to capitalize on their strengths and what they think is useful in life and career.
What do you think is most useful for a student today?
I think the most useful would be to have more access to the practical practice of the lessons learned and to insist more on its practical training. We arrive in the final years and realize that maybe some learned notions are already outdated or that we have not had the opportunity to practice some things and are inefficient for the labor market.
It is a very fierce competition between us, and the pharmaceutical industry is on the rise and continually changing. We must keep up with these changes, and for some of us this is quite difficult.
What is GALMED? How did it begin? What is your impact on the project and the impact of the project on you?
"GALMED" is a scientific and educational event organized annually by the Galati Medical Students Society in partnership with the Univerity of Medicine and Pharmacy and the "Dunarea de Jos" – Galati, addressed to students and resident doctors, dentists, pharmacists , nurses and pharmacists, and midwives. During four days of congress, they can find out the most important medical and pharmaceutical news and can exchange views in interactive presentations during the event.
I have been involved since the early years of college as a volunteer in the organization "GALMED", and the edition that just passed has been entirely coordinated by me.
The event that has already reached the eighth edition has become particularly important for the medical life in Galaţi , and the number of participants is increasing from year-on-year.
For me, the "GALMED" Congress means emotions, work, involvement, dedication, but also an accessible and timely means for medical students and pharmacists to develop professionally and personally.
What brings GALMED new and exciting?
The eighth edition of the GalMed Congress brought several changes. As organizers, we have been able to get continuous medical education points for doctors, nurses and midwives, as well as continuing pharmacy education points for pharmacists. We have succeeded in mobilizing in the enrollment and presentation of scientific papers the students of the Republic of Moldova, but also those from the Extension of the Faculty of Medicine and Pharmacy Galaţi from Enna, Italy.
For students from our faculty were able to make accessible packages so that they could participate in Congress and did numerous workshops, where each participant could learn with notions specific to his sphere of activity.
We also strived for the prizes to be some as expected.
What is the impact of GALMED on students, on other professionals?
In my opinion, "GALMED" is an unprecedented opportunity for medical and pharmaceutical students and professionals to present in an exceptional framework the results of their research and scientific documentation that they have worked over the years.
Students also have the opportunity to interact with personalities from the local medical and pharmaceutical field, with numerous success stories. For students there is also an exercise for the bachelor's examination.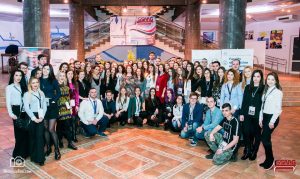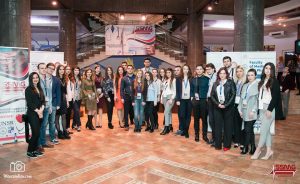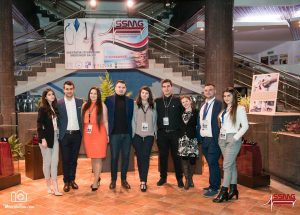 As a student with multiple preoccupations and implications, how goes one day of your life?
Being a student in the fifth year at the pharmacy, my main concern is the study for the bachelor's examination and the internship I have to do in this semester.
Besides, I do not neglect my activities with SSMG volunteers, trying to give them all the support and support for our projects to have some impact.
What are you doing in your free time?
When I have free time, I like to travel.
Every night I try to plan what I have to do the next day, set my goals. If these are long-lasting, I try to spend a little time each day to help them accomplish.
Of course, things do not always go according to plans.
What motivates you to go before?
I have always liked the challenges and I think life without them would be very monotonous. Even if there were situations in which I felt discouraged, I always think that tomorrow will be a better and productive day. I consider myself an ambitious and patient person who can not be struck too easily if he proposes anything.
The encouragement they receive from family, friends and teachers also contributes to my everyday motivation.
What would you like to know or be told now at the beginning of the road?
We all know that pharmaceutical industry is no longer what it was and that it is a growing branch.
I would like to know more about the new directions of this branch, to discover the innovations they are working on and to be actively involved in scientific research.
3 tips for those who want to make a career in this profession?
To like to work with people; not to be selfish and to put themselves a little in the skin of others; be conscientious; to have patience and ambition;
3 tips for young students
– try to take advantage of the volunteering opportunities offered to them;
– participate actively in conferences and congresses in the field;
– to participate in as many inter-university exchanges and student mobility programs.
Flash Questions:
What is your daily ritual?
A dose of volunteering, one study, another practice with pharmacists from whom I try to learn as much as possible.
What is the best advice you have received in your career?
There is no I cannot, there is only I do not want. If you really want something and dedicate yourself to that goal, it will certainly be fulfilled.
Who is currently inspiring you?
I am most inspired by Professor Dr. Aurel Nechita, the founder of the Faculty of Medicine and Pharmacy in Galaţi, who is a good example of a person who has left behind something to be enjoyed by others and continues the development of this educational institution higher. I also learned from him that if there is no continuity in what you do and things are not planned, everything you build can collapse anytime.
###
Thank you for your interest shown! If you find this useful, interesting or inspirational interview, I invite you to leave your comment below or here.
For other interviews and inspirational pills, watch our site or Facebook page.