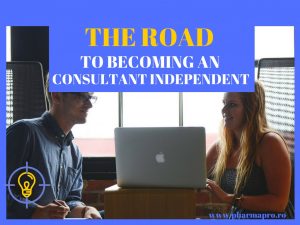 Why you should became an independent consultant?
 If you think about leaving your current job and starting working on your own, becoming an independent consultant, you're not alone. Six in 10 independent workers say that it was their choice completely to go out on their own, according to a recent survey.
While the decision to join the "freelance economy" shouldn't be made lightly, there are plenty of reasons why it's an attractive option. Some of the benefits include the freedom and flexibility of managing your own time and doing work that you love.
Here are some reasons for which you might think of becoming an independent consultant:
Working only on projects that inspire you
Greater control over your own schedule
More diverse challenges
Opportunity to do good
Be your own boss.
You'll be happy and healthier
You will find below some guidance, steps and ideas if you decide to become an independent consultant:
Don't be afraid to try it
 Most people are afraid of failure. Be bold and follow your passion and your dreams. If it doesn't work as you'd hope for, you can always return to being an employee.
Set aside a little nest egg
You need to have yourself well resourced because you are starting a business!
The first thing you must do is set aside a good portion of income to make sure you have something put away so you can enjoy the process of business-building, meeting people and doing the work.
Define your specialty
Look to specialise in something and do it really well! Even if you start as a generalist, you can build this focus over a number of projects.
Manage your time
At first it is possible to take several projects without considering the time allocated to each and it is possible to get crowded. A good thing is the flexibility to determine how many projects you are working and your free time.
Advertising
 You do not need to invest in office space, logos, websites and branding material –that can come after your first or second project. An independent engagement contract can give you all the protections you need. Focus on finding a contract – paying work is the best way to stay on the happy path of independence.
Take the time to develop your own brand
 When you're an independent consultant, you use similar skills as well as leverage the experience you had in a firm, but you also have to ensure you focus on building your own reputation. It's really important that in the back of your mind you have an "I can do it, I will do it, it must succeed" – because it's your reputation on the line.
Have a plan for dealing with billing, expenses, taxes
 As an independent consultant you are now responsible for doing your own taxes since taxes will not be withheld from the payments you or your business receive.  You'll need to keep records on your billable and non-billable expenses.
Be strict with yourself
 In order to ensure that you meet your consultation commitments, it is helpful to follow a program. So you know very well what you have to do on that day and you will not miss anything.
Take advantage of the slow times
 One of the hardest things to get used to when first becoming independent is the downtime. You panic and get worried that you won't find another project. Don't be afraid if things get slow! Things pick up again so take advantage of those times and enjoy them.
Do it for the right reasons
 If you're going to go independent, you have to do it for the right reasons. You'll probably end up making more money but don't let that be the deciding factor.
It's what you make of it
The freedom you have as an independent consultant can be both challenging and rewarding, because you're responsible for your own success. And being solely responsible for clients is professionally, personally and financially very rewarding.
If we can do it, so can you!
 If being independent and working for yourself is what you want to do, then it's up to you to make it happen. Sometimes people are driven by fear, but if we can, you can!
The independent workforce is growing at a rate that is more than four times greater the growth rate of the overall workforce. The rising ranks of both Full-Time and Part-Time Independents increasingly assert that independent work is both an important income stream and a way to diversify their households' financial risk.

The age of Independents runs the full adult gamut, from 21-year-olds who have just entered the workforce to octogenarians who may still work more than 15 hours per week. As they mature, Millennials (aka Gen Y, ages 21-34) are carving out a significant niche in the workforce. Millennials comprise 30% of Full-Time Independents in 2015. With their immediate elders Gen X (ages 35-50) accounting for another 33%, these two younger cohorts form a solid majority (63%) of the independent workforce. While Baby-Boomers (ages 51-68) constitute 29% of the independent workforce, Seniors (ages 69+) are starting to choose full retirement over reduced hours; in 2015, Seniors account for just 8 percent of independent workers, down sharply from 15 percent in 2014.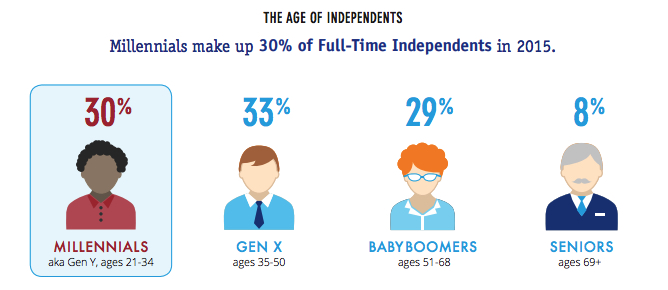 What are the reasons people choose to work independently? Here are the four most frequently cited reasons: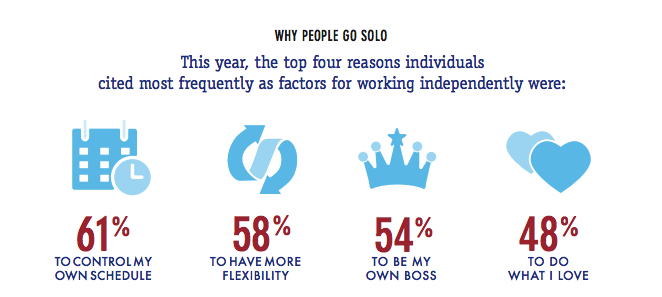 Women and men decide to go independent in roughly equal numbers. Their overall satisfaction with independence is about the same and they plan on staying independent at similar rates. There is one area where men and women's attitudes differ significantly. Women tend to value independence as a viable career path that leads to fulfilling work and that fits with their lifestyle at a higher rate than men. Men, on the other hand, tend to focus more on the positive attributes of being their own boss, being in control and maximizing their income.

While most Part-Time Independents list supplementing their income (61%) and/or earning more money (50%) as the reason they work as a part-time independent, financial factors are not the only motivation. Over 4 in 10 (43%) report they're working part-time to pursue a passion or interest. The potential for further education, experience and exploring new opportunities also comes into play. About 1 in 6 part-timers (16%) reports working part-time to gain skills to advance their career, while a similar proportion (15%) is using part-time work to explore a new opportunity or business.

A consultant may be hired to identify problems. Sometimes employees are too close to a problem inside an organization to identify it.
A consultant may be hired to supplement the staff. Sometimes a business discovers that it can save large amounts of money a week by hiring consultants when they are needed, rather than hiring full-time employees. Businesses realize they save additional money by not having to pay benefits for consultants they hire. Even though a consultant's fees are generally higher than an employee's salary, over the long haul, it simply makes good economic sense to hire a consultant.
A consultant may be hired to act as a catalyst.  The consultant can do things without worrying about the corporate culture, employee morale or other issues that get in the way when an organization is trying to institute change.
A consultant may be hired to teach. A consultant may be asked to teach employees any number of different skills. However, a consultant must be willing to keep up with new discoveries in their field of expertise–and be ready to teach new clients what they need to stay competitive.
A consultant may be hired to create a new business. There are consultants who have become experts in this field. Not everyone, though, has the ability to conceive an idea and develop a game plan.
No Job Security
When you're an employee, you must be paid as long as you have your job, even if your employer's business is slow. This is not the case when you're an independent consultant. If you don't have business, you don't make any money.
No Employer-Provided Benefits
When you're an independent consultant, you get no such benefits. You must pay for your own health insurance. Time lost due to vacations and illness comes directly out of your bottom line. If you don't earn enough money as an independent consultant to purchase these items yourself, you will have to do without.
No Unemployment Insurance Benefits
Independent consultant also don't have the safety net provided by unemployment insurance. Hiring firms do not pay unemployment compensation taxes and independent consultants can't collect unemployment when their work for a client ends.
Reputation is everything to an independent consultant, so never burn bridges. Never oversell your abilities or over promise on what you can deliver. Always operate with the highest degree of integrity and be very comfortable promoting and selling yourself – you need to be confident in what you can do and explain it to people with ease.
Independent Consulting is not for everyone. It requires an entrepreneurial mindset and a comfort level with the inherent risks. However, if after reading this you are ready, getting started is not as difficult as it may seem first seem.
We can guide you throughout finding your way! Send us a message at contact@pharmapro.ro in which you state your decision or career option and we can offer support and advice!
###
Thank you for your interest shown! If you find this useful, interesting or inspirational article, I invite you to leave your comment below or here.
For other articles and inspirational pills, check out our site or Facebook page.