Interview with a pharmacist – Pharm. Nicoleta Radu
# The more I work, the more fortunate I get.
# All the doors open to the ones who know where they are going!
# Communication skills are vital for the transmission of professional information.
It is a blessing to find a different groups of people to go to as we navigate through our professional and personal existence. I believe it is important to have more mentors in our lives, inspirational people, behavioral role models, to connect with each other as colleagues, as professionals and as people. Mentors bring different types of learning opportunities and these opportunities should not be limited. A suitable mentor can change your career path. Each of us must build our path to finding joy and professional fulfillment.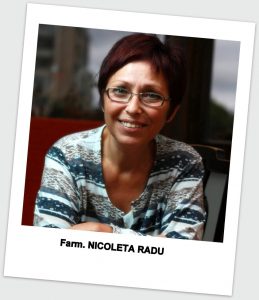 "Nothing great in the world has ever been accomplished without passion" – Hegel
Pharmacist Nicoleta Radu – a pharmacist practitioner passionate about her profession, a person who chose between two professions, both dedicated to patient care, a professional aware of the value of this profession, this is why she is actively involved in all that this profession is all about. Mrs. Nicoleta Radu, a pharmacist with over 20 years of experience in the Romanian pharmaceutical market, is also a mother, wife and 3-year-old grandmother and is one of the promoters of the Good Pharmacy Practice Rules  and the vice-president of the Romanian Pharmacy College
I know you have a very exciting and courageous journey. You have a double qualification, aa a doctor and as a pharmacist. How did you choose UMF – Medicine and then Pharmacy?
For the first 10 years I studied at Targu Mureş Art HighSchool and I owe much to that period. It is the kind of school you practice and you get a lot of skills. I have learned to work a lot with passion. The rest was a matter of luck, the more I work, the more fortunate I get. Now I'm lucky to do what I like. My first qualification was medicine. I wanted to study pharmacy, but my parents were guiding me to medicine school. I experienced a lot, then I asked myself these questions:
 What do I want to do ?
What can I do ?
And what do I assume to do?
I chose the pharmacy school, followed by five years of study at UMF Tg-Mures, even if, based on my medical qualification I had the opportunity to cumulate two years in one, I preferred to go step by step, I did not cumulate my exams, not even pharmacology, especially pharmacology, because I knew I wanted to work in the pharmacy and the final exam  I would give it in front of the patients, daily.
How did you see the major differences between the two professions you experienced and why did you felt closer to the pharmacy profession?
The doctor provides medical services for the benefit of the patient, it is obvious to everyone. The pharmacist provides a medical service that ends or not with a medicine release. I think the essence of our profession  is to make the patient understand our effort for his benefit, this medical service provided by ourselves, which is obvious when done by the doctor but can be eclipsed by the product in the case of the pharmacist. When you are facing the patient, the focus is on the patient's problem, both in the medical office and in the pharmacy.
My opinion is the personal growth is very important in these types of professions, this means that you have to be able not to project your own problems and expectations on the patient, who comes with his own issues, hurting and scared. Do not expect reward, do not make any illusions!
Talking about the differences between the two professions:
The doctor is aware from the beginning that his work is a medical service, the challenge is to find his way in the multitude of specialties /competencies and to master a "slice" to practice on, be appreciated and rewarded, it is really a long way to go.
The pharmacist is being taught in school to provide medical services, but working in the pharmacy he finds that the patient only sees the release of products. The pharmacist's challenge is not to keep his moral high if it is not appreciated, not to give up. It's a long way to impose respect, to practice everyday what you really believe, to have no expectations, not to give up!
The doctor has a lot of possibilities for specialization, skills, etc.
The community pharmacist has no practical training or specialisation for over 14 years, and this is areal problem. The doctor has an evolutionary perspective in the profession: specialization, competencies, primary school. The community pharmacist does not have this possibility, there are no specializations, so the only things left is his reputation among the patients.
Who inspired you? Do we need  mentors?
I have as a role model  a pharmacist and a doctor. I'm lucky both to be my mentors. Why did I choose them as a model? For the passion and consistency with which they fulfill their dreams. All the doors open to the ones who know where they are going! Yes, I believe in model learning at all ages. Credibility is the person who does, not just says it, but also demonstrates it. We need role models that show us that it is possible, to inspire us, charge us with energy, and we have the duty to pass on what we have received.
What changed during professional development?
At first, when a patient came into the pharmacy, I asked him:"What can I do for you?". Back then I really thought I could help him. One day, a patient diagnosed with cancer asked, "Do you really think you can help me?". It was a cold shower for me, she was right, who do I think I was, was I really able help him? I have radically changed the question, now I say simply: "Hello. I am listening". 
At first I thought I was helping people, I think I had too much pride. Now I know that if I manage to be of help for the patient, another human, I have done my duty so much.
What are the strengths of a pharmacist?
Communication skills are vital to the transmission of professional information, which obviously needs to be up-to-date. It's a profession  where you learn all the time. And we need specializations for the pharmacist in the community pharmacy.
From everything you've been studying at the school, if you were pointing a thing that was useful to you in life, what would that be?
The exam with myself I have it every day, in front of the mirror. The school checks for accumulated knowledge. In the school system, you are taught the lesson and you checked what you have learned. In life, you most often give the exam, and then you learn the lesson… or not.
What is the best life lesson you have received?
Everything I did not love enough, I did not love in time or I loved badly, I lost. Any failure is a lack of passion! 
If you were to choose again, would you choose this profession?
I choose the pharmacy profession without thinking. It is a profession in which you have unlimited possibilities for personal development and evolution if you do not give up believing that you are providing medical services. And reward comes through professional reputation. 
What are the weaknesses of the profession?
There is no relevant specialization in the community pharmacy. We have too few mentors, we do not promote models that inspire the younger generation.
What were the career steps?
I do not think it's important until you get into the career. The real reward is the man, the professional you have become. Reputation is our best asset. That's what I learned from my mentor, what I saw in my mentor, I took over, and go on. 
Is there anything you do differently?
I am what I am due to the decisions I have made.
What is the least pleasant professional experience?
The most unpleasant professional experience was when the patient cursed me in the middle of the pharmacy because I did not release her medicine (it was temporarily absent from the market). I was in apnea for about 10 seconds, but I had the inspiration to hand her the suggestions and complaints notebook, to get his upset feeling out there, on paper, then she stopped and went out immediately.
During a day, are you a doctor, a pharmacist, a pharmacist's leader? Are the three components of your professional life excluded or overlapped?
We are what we do repeatedly. I am no longer a doctor is not, I do not work as one. I have the diploma, "at the panel of honor" at home, and this is it. I'm a pharmacist because that's what I do day by day. Leader is the person that others follow. If I manage to convince people to do what I ask them to do? Yes, when I ask for something I really believe i. "intracellular" – as I am used to say. It is true both in the professional and in the personal life. 
How do you overcome the challenges?
If it is an assumed intracellular decision, I have no choice. I feel it and I take it, in my own rhythm.
What do you think it was important to know when you were at the beginning of your career?
I would have liked to understand the importance of knowing specific legislation. I have to admit, I was told, but I did not understand, but then it did not impregnate"intracellular".
What advice would you give to those who are at the beginning of their journey as pharmacists? 
I do not believe in the advice. I think it is useful to share the experience. As  I was young it would have been useful to understand the the man has 2 ears and only one mouth, to listen twice and speak only once.
Flash Questions:
What is your daily ritual? 
Morning coffee – 10 minutes for me, the evening tea – the exam with myself.
What is the best advice you have received in your career?
In theory, there is no difference between theory and practice. In practice, however, there is. 
The sun that rises serene in the morning, the same serenity as I always know it.